Go On Back
to Must-Be TV

1983 - Doug Henning in Merlin
Doug Henning was a proto-New Age magician who became a huge hit on Broadway with "The Magic Show." This TV commercial was for his followup show.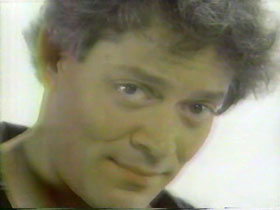 1982 - Raul Julia in Nine
Raul Julia was a cool guy and all, and he is missed, but I have this commercial mostly because Jay and I remember, and to this day like to quote, a line from a goofy little parody of this show. "How many fingers would you have if you lost one? Nine!"
Back to Gibble
1988 - M. Butterfly
Ad for the 1988 staging of the David Henry Hwang play, with B.D. Wong.
1985 - The Mystery of Edwin Drood
You, the audience, decide Who Done It!
1988 - Speed-the-Plow
I hope this promo doesn't reflect what the performance styles were during this staging of the David Mamet play, because it would be really distressing to me, as a diehard fan of Mamet, Bob Balaban, and Felicity Huffman, to think that Balaban and Huffman were as wooden as they look in this. David Rasche, however, looks like he fit the role well, he's got a little bit of snark going that the character needed.
1985 - Big River
Like the title says. I think the promo cheats a little, though, since that looks like a real river they're on for most of the time.